Cheese & Chutney Delights
Posted on 20th January 2020
For all you cheese lovers out there, TODAY is National Cheese Lovers Day…permission fully granted to have a day full of lots of deliciously gorgeous, irresistible cheese!
What can make the day even better is pairing your cheese with the perfect chutney or jelly.
1.Caramelised Red Onion Chutney
Deliciously sweet & crunchy red onions give a grand mix of pickled flavours to our amazingly moreish Signature chutney.  It complements well with strong hard cheese like mature Cheddar or strong blue cheese like Shepherds Purse Northern Blue.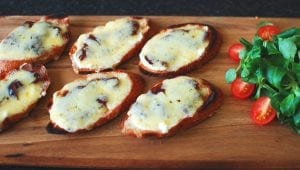 In fact, you can make a quick & easy Cheesy Bruschetta snack.  It's incredibly tasty!
 2. Spiced Apricot & Ginger Chutney
This tangy chutney is bursting with the flavour of apricots and the warmth of ginger, with a hint of Indian spice.  It's perfect with hard cheese like a crunchy Red Fox Red Leicester, crumbly Wensleydale or aged Gouda and soft cheeses such as Brie and Gorgonzola.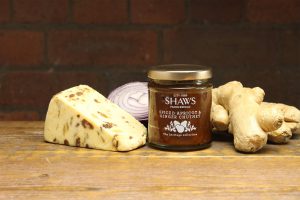 3.Fig & Honey Chutney
The luxurious flavour of figs infused with honey is heavenly for those that like something sweet.  It pairs beautifully with soft creamy cheeses like brie and cambazola or try a mild blue cheese like Shepherds Purse Yorkshire Blue or Bluemin White.
Makes a wonderful starter or party nibble in this Ravishing Radicchio Blue recipe. (Find the recipe by downloading our Sandwich Booklet.)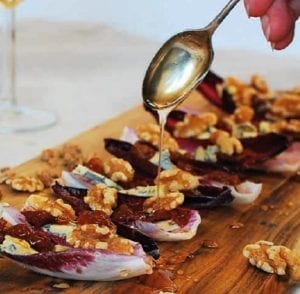 4. Smoky Chilly Jelly
A sweet, smoky and medium heat level chilli jelly that really brings the taste of Mexican street food into your home.  It has the perfect partnership with baked cheese like feta, Camembert or brie.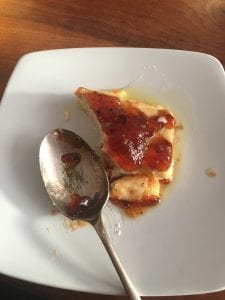 Find our recipe for Smoked Chilli Baked Feta.
I think you'll agree cheese and chutney is a marriage made in heaven.  Homage to Fromage certainly agree, as from February, at their cheese events, you'll be able to taste 3 of our stunning chutneys (Caramelised Red Onion, Fig and Honey and Smoky Chilli Jelly) to complement the cheese at their events.
So go on, tuck in…It is National Cheese Lovers day after all!