The Gardening Blog Spring has Sprung!
Posted on 1st April 2019
Since reaching spring equinox the garden has burst into life. The secret garden at Shaws is showing some flashes of colour with pink hyacinths and big bold yellow daffodils. Thanks to one of our Dutch suppliers who bring us bulbs every winter when he comes to see us!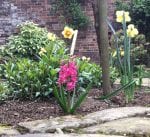 Owt for nowt
In Yorkshire we are always on the look out for 'Owt for nowt'!
Wild garlic grows in almost all regions in the UK, particularly where you find ancient woodland. To find out more about how to forage safely have a look at this link https://www.countryfile.com/how-to/food-recipes/wild-garlic-guide-where-to-find-how-to-cook-it-and-recipe-ideas/. It's particularly tasty now when the plants are young and the buds haven't flowered. I chopped some finely and mixed it with eggs, halloumi and mushrooms with a dollop of Shaws Mango chutney to make a super tasty quick omelette.
For more recipe inspiration go to
https://shaws1889.com/recipe-inspiration/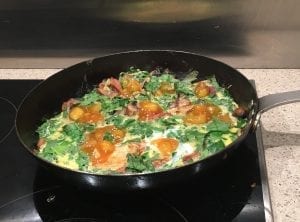 Buy daffs, snow drops etc on offer now at your local garden centre. It's much easier to plant them in the best place for you to enjoy them when they are in flower.
Another great tip is to swap seeds and take cuttings from your neighbours. Whatever grows well in their garden is likely to grow well in yours too!
Don't have much outside space of your own? Why not take a walk around the neighbourhood soon, before the season finishes. You should see the beautiful early flowering trees at their best, such as Magnolias & Camellias.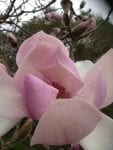 Composting
A great way to spend less on bags of compost from the garden centre, whilst saving waste going to landfill, is to make compost. Use all your veggie off cuts, cuttings from dead plants and grass mowings from the garden. Mix them in a suitable out door bin with bark, shredded paper and card to get the best green to brown ration. If you have a cat litter tray you can use wood pellets as litter and pop them in the compost too. To get your heap up to a higher temperature use a compost accelerator or get your hands on some chicken manure from someone who keeps hens, which does the job nicely. You'll need a set up where you can turn the heap and be patient whilst it gets going. Or use something like a hot bin to get accelerated breakdown https://www.hotbincomposting.com/. It's just like making a cake…get all the right ingredients in the right order at the perfect temperature and out comes a beautiful smelling mix of lovely brown, crumby compost that your plants will love.