Job Vacancies at Shaws
Posted on 5th October 2017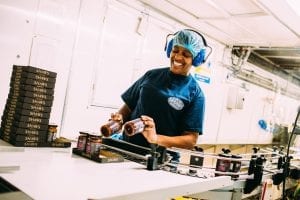 Job Vacancies at Shaws as we are looking for Factory Process Workers to work in this bustling environment.  The job description is below and if you are interested, please do get in touch with a Cover Letter and CV to reception@shaws1889.com. We look forward to hearing from you.
Job Description  
We are currently looking for process operatives for our cooking and packing departments. We offer good rates of pay, holiday entitlement and a friendly and supportive working environment.
Responsibilities and requirements:
Support to deliver daily production plan
Operate plant / Equipment
Understand and work to achieve/exceed daily KPI targets
Work with co-workers to carry out start up procedures, ensuring good manufacturing, housekeeping, hygiene and health and safety standards throughout production
Follow and comply with food safety requirements, effectively controlling CCP's and adhere to site quality procedures, policies and values
Previous experience from a food production environment is desirable
Good organisational and time-keeping skills
Ability to maintain concentration for repetitive tasks
Physically fit as the role can involve a lot of lifting and manual work
If you have the skills and experience and would like to be considered for one of the roles please submit a cv and covering letter explaining why you would like to work in our team.
Job Type: Full-time
Salary: £7.50 to £9.50 /hour