INTRODUCING MRS PICKLES – WALTERS BETTER HALF!
Posted on 16th February 2017
Mrs Pickles, better known as Nelly within her social circles, loves her arts and crafts when she is not helping Mr Pickles in the kitchen developing his chutneys and relishes. She is proper proud of Walter and all he has achieved, when she takes his products t' sample at the WI or her 'Knit and Natter' group.
Getting to know Nelly was lovely as we asked her a few questions.
#PQT Pickles Question Time!
Which is your favourite Shaws Product?
Mrs Pickles: I love our Fig & Honey, it is a rich and elegant flavour which goes beautifully with my home made tarts & quiches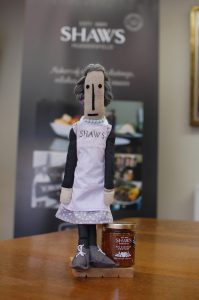 Where is your favourite picnic spot?
Mrs Pickles: I love nowt better than taking the family on a great day out to Castle Hill in Almondbury…..the views over Huddersfield are breathtaking from up there
What do you do when you are not eating chutney?
Mrs Pickles: I enjoy spending time with my family and Walter and I spend as much time as possible with our 2 children but also helping Mr P cook up new ideas for our chutneys, relishes, sauces and salsas
What is your favourite crisp flavour?
Mrs Pickles: I don't eat many crisps but on occasion I will have Yorkshire Seabrooks Ready Salted or Plain
What do you enjoy most about Huddersfield?
Mrs Pickles: Seeing my friends at the WI. Its always a grand day out.
What can you not live without?
Mrs Pickles: My apron and my wooden spoon.
Tell us a Joke:
Mrs Pickles: A couple had been courting for nearly 20 years and one day, she plucked up the courage and asked 'Don't you think its time we wed?' He answered 'Aye lass, but who'd ave us?'